While there are a lot of great 3PL services out there, not all of them are well suited to a growing business. To get you started in your search here's a quick shortlist of some of the top 3PL eCommerce fulfillment center for local small business.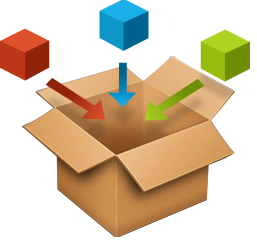 Amazon FBA
Fulfillment by Amazon (FBA) is the go-to fulfillment center for sellers on Amazon. Products fulfilled by Amazon are automatically eligible for Prime shipping at no additional cost. FBA also offers multichannel fulfillment, which means that Amazon will fulfill orders that come from your own website or another marketplace (for an additional fee). If Amazon is your primary sales channel, FBA is an easy and valuable option.
Red Stag Fulfillment
Red Stag Fulfillment is perhaps the best provider for handling products that are fragile, oversized, or have other special packaging requirements. It offers sellers excellent customer service and is willing to work with very small (100 orders/month) businesses. Its fees are competitive when it comes to specialty fulfillment (when you factor in the quality of the service), but it is a lot more expensive than other options when it comes to more "standard" products.
FedEx Fulfillment
FedEx Fulfillment offers an obvious advantage in that it's, well, FedEx. It has full-service fulfillment centers to store, pick, and pack orders while also leveraging its massive logistics network. FedEx's size makes it ideal for scaling—you get access to a "big player" fulfillment network and features without hefty costs or the need to make tens of thousands of orders a month.